If you are buying a new product or thinking of working with a new business, what is the one thing that convinces you to go with that thing?
I know for me, it is a good testimonial, because whatever objection going on in my head and if I see a testimonial talking about the same objection and how the product or business solved it, it makes me feel that this thing can solve my problem as well.
I am going to share with you a system that you can use again and again to produce the story-driven objection solving testimonials, that converts like crazy.
The best testimonials are always going to tell a bit of story, starting from where they were before they found you, the problem they had, how it makes them feel, how it changed after working with you and how life looks now.
The story-driven testimonials are way better than the "Great service, highly recommendable" type of testimonials but the question arises how to ask the customer to write a story-driven article because you might be thinking that it is already hard to get a simple one-liner testimonial from a customer.
Don't worry, I will share with you simple steps that can help you generate these amazing testimonials with ease.
Let me share two examples of such testimonials, read them and see how they are taking you on a journey and how they are answering the objections.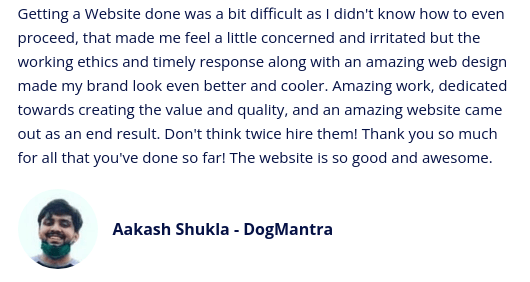 I am sure that you also feel that testimonials like these are way better than simple one liners. Yes?
So here are the steps to generate story-driven testimonials for your business with ease:
Step 1: Find The Seeds
Look for anything positive people are saying about you online or directly to you.
Step 2: Contact the seeder
Reach out manually to each person who said nice about you. Message them the truth that their message made your day and you value their feedback and then set up a call with them. Record the call, let them know that call will be recorded beforehand. During the call ask story-generating questions.
Step 3: Ask Story Generating Questions
These questions will help you generate story-driven testimonials:
What was your absolute biggest challenge prior to finding us?
How did that challenge make you feel?
What changed after working with us?
What specific results can you share?
What would you say to somebody on the fence about working with us?
Anything else to add?
If you are sending a questionnaire to the user then you can combine all the answers in forming a testimonial or if you are recording a video then you can cut out your questions asking part.
You can use these testimonials on your website, you can share them on social media and you can also use them in your advertisements.
So, that's it. Let me know if you have any questions or any feedback to share.